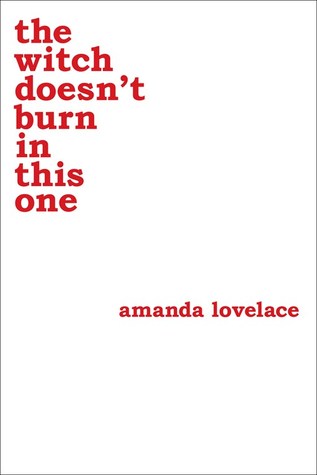 The Witch Doesn't Burn in this One by Amanda Lovelace
Publisher: Andrews McMeel Publishing
Release Date: 6th March 2018
Rating:
The witch: supernaturally powerful, inscrutably independent, and now—indestructible. These moving, relatable poems encourage resilience and embolden women to take control of their own stories. Enemies try to judge, oppress, and marginalize her, but the witch doesn't burn in this one.
After hearing so many wonderful things about GoodReads Choice Award winning poet Amanda Lovelace's debut book, The Princess Saves Herself in This One, I was stupidly excited when the opportunity arose to review her new collection, The Witch Doesn't Burn in This One.
I am a big fan of poetry and I am conscious that I don't read nearly enough. I found The Witch Doesn't Burn in this One to be a great introduction to the genre of feminist poetry and I really enjoyed this awe-inspiring, authentic collection of powerful poems.
So many poems spoke to me on so many different levels. The content covers an array of subjects including feminism, body-shaming, eating disorders, the glamorisation of abuse and self-acceptance.
However, the collection itself is based around the metaphor of the Salem Witch Trials - and ultimately the oppression of women.
Whilst the actual style of poetry is not necessarily my favourite, I still really enjoyed reading this anthology. The poems definitely had the desired effects of evoking all sorts of emotions within me.
The passion that Amanda Lovelace writes with really shines through in her works, along with the anger and raw emotion that she pours into her words.

I found many of the poems to be inspiring, particularly 'Things I Still Struggle to Say and That's Ok', '& I've Only Just Begun' and 'We Tried to Warn You' ("Red lipstick, an external sign of internal fire."- Possibly my favourite quote from a poem ever.)
There's no denying that, as a woman reading this it made me feel strong and also rather powerful in a way that other other poetry collection has before. I felt as part of a team - women united as we battle against the injustices that many of us face and it has to be said - that is a damn good feeling. I'd go so far as to say it's liberating - despite the words and content coming from a place of anger and injustice. (In fact, some of the content is very dark indeed - but it has it's place and works well to contributing to the overall message portrayed by the book.)
This is a great book to skim through and to refer back to when you need to; whether you're struggling with an issue in your life or are just looking for some inspiration.
A fiery and compelling book for fiery and compelling women.
Many thanks to NetGalley for the opportunity to review.